Why Youngblood
The Youngblood Difference
Of course, all mineral cosmetics are not created equal. Pauline Youngblood Soli, a pioneer in the industry, developed her first products in a medical setting, specifically for patients recovering from harsh medical procedures, such as laser or chemical peels, surgeries, and even cancer treatments. Her patients experienced such dramatic success that they continued using her formula long after their skin had healed, and urged her to make it commercially available.
Today, Youngblood is the premier mineral cosmetic line available, because of the luxury formulation, ideal milling process, and chic, upscale image and packaging. From the first moment you brush it on, you'll notice the incredibly silky feel, and a polished, natural finish, unlike any other makeup you've ever tried. Clean and lightweight, it allows your skin to breathe and is non-comedogenic (it won't block pores or cause irritation). Even with our flawless coverage, you'll feel like you're wearing no makeup at all. And unlike other mineral cosmetics, Youngblood never looks "glittery"; instead you'll radiate a natural, healthy glow. It's no wonder Youngblood has emerged as the clear standard, used in upscale skin care clinics and med-spas around the world.
Youngblood products are incredibly easy to use, long-lasting, and stand up to heat, humidity, and perspiration, no matter how active your lifestyle. Whether you're at the office or at the gym, our makeup is as high-performance as you are.
Youngblood is perfect for all ages and skin types – even for women with sensitive or problem skin. And Youngblood offers a comprehensive set of the most realistic, natural-looking shades, for women all around the world.
But don't take our word for it. Try Youngblood today and feel the difference for yourself.
Why Minerals? Youngblood has the answer
Non-comedogenic
No lead
No talc
No chemical dyes
No artificial colour or fragrance
Not tested on animals
No mineral oil
Light reflecting properties
No alcohol
Long lasting coverage
Pigments derived from natural minerals from the earth
Superior quality Mineral Makeup products like YOUNGBLOOD dramatically improve the look of any complexion giving the illusion of clear, healthy blemish free skin with just a light coverage and can be applied it in seconds. Read what the experts are saying about minerals.
Without looking heavy Youngblood Mineral Cosmetics cover almost every distraction. For people who suffer form rosacea, their inflammation can be covered effectively in minutes and the redness will not bleed through. This benefit is also enormously valuable by dramatically improving the appearance of those clients suffering from acne and other skin conditions. Youngblood Mineral Makeup can be worn on sensitive or allergy-prone skin, because of its lack of the main ingredients that sensitise skin.
Why are the ingredients so important?
Why does Youngblood Mineral Makeup work so effectively? Our Mineral makeup is formulated from elements derived from the earth's minerals. Its super fine silk-like powder contains combinations of ingredients such as titanium dioxide, iron oxides and mica. Youngblood Mineral Makeup can probably be better defined by what is NOT included in its composition.
One of the most commonly used fillers in traditional makeup is talc – a finely powdered magnesium silicate. Traditional makeup ingredients have a long list of binders, fillers, chemical dyes, fragrances and chemical preservatives. Talc isn't the only ingredient Youngblood mineral makeup has eliminated from its formulas.
* Our competitors include Zinc Oxide in their formulation; we chose not to, as it may be unsuitable for dry skin because of its astringent qualities. It is reported that our competitors use more mica and /or bismuth oxychloride in their foundation – which translates to more shine or luminosity. Youngblood felt that less shine may offer more versatile for women of any age. Mixing our Lunar Dust with any of our products can always increase luminosity.
You want to know what ingredients might be causing trouble to their skin. Skin enemy number one is perfume. It is the item that cannot only result in irritation or allergies but can also act as a photosensitiser. Perfume should only be applied where skin is not exposed to the sun; otherwise they are headed for hyper – or hypopigmentation. Signs of this kind of damage are often found in the neck area. If makeup contains perfume it can cause irritation and damage to their skin.
Youngblood Technology
Youngblood continues to stay ahead due to the spectacular advance in technology; from the way minerals are milled to the scope of colours now available and the variety of coatings that affect the way in which they scatter visible light. Youngblood Minerals scatter light when applied to the skin; this is how they give the illusion of perfection. Unlike a traditional matt powder that absorbs light and allows one to see into the skin, Youngblood Minerals act like hundreds of thousands of mirrors reflecting and refracting light back at the observer and obscuring imperfections that lie beneath.
Youngblood Ingredients
At Youngblood Mineral Cosmetics, we use only the purest, most premium grade minerals. We refine our minerals using our proprietary milling process. Although many mineral lines claim to be "jet-milled" or "triple-milled," not all milling processes achieve superior results and, oftentimes, result in potentially dangerous ultra-fine particles known as nanoparticles. Youngblood does not use nanoparticles in its formulas.
When comparing mineral cosmetic lines, always check for synthetic ingredients such as alcohol, artificial fragrance, mineral oil, talc or petroleum. Talc is a filler, and can block pores, dry out skin and cause irritation. Our products do not contain talc, or any other fillers. Instead, we use rice starch as a healthy alternative to talc and various botanicals and vitamins to create our safe, effective formulas. We are also proud to be paraben free since 2008.
As the cosmetics industry continues to explore the benefits of minerals, Youngblood remains the premier choice for healthy, luxe quality mineral cosmetics. We invite you to compare our products to our competitors, and we think you'll find our quality superior to any other mineral cosmetics line.
Frequently Asked Questions
What is mineral makeup?
Rather than being oil or petroleum-based, true mineral makeup is made of earthen minerals, milled to a very fine powder.
Why is mineral makeup better than traditional makeup?
Mineral cosmetics reflect light – like millions of tiny diamond mirrors – to hide fine lines and discolourations. Unlike traditional cosmetics, which coat the skin with a layer of film, mineral makeup allows your skin to breathe and function naturally. In fact, Youngblood was originally developed for use in a medical setting, to help patients' skin breathe and heal after harsh surgical procedures.
High quality mineral makeup should not clog pores, and should feel like you have no makeup on at all. It should contain no synthetic or irritating ingredients, such as alcohol, artificial fragrance, mineral oil, talc, or petroleum.
What sets Youngblood apart from other mineral lines?
Youngblood is the premier choice for high-quality mineral cosmetics. An exclusive milling process creates luxurious formulations that are free of talc, oil, parabens and fragrance.
Clients have continuously claimed that Natural Mineral Foundation performs better than other brands, and is available in a range of realistic, natural-looking shades for women all around the world. It feels incredibly silky and lightweight; is non-comedogenic (won't block pores); and allows skin to breathe. Unlike other mineral products, Youngblood isn't glittery. Skin radiates a natural, healthy glow, resulting in a younger-looking, flawless complexion.
What are the main differences among Youngblood's foundations?
Each Youngblood foundation offers a variety of finishes and levels of coverage to meet the different needs of our customers. Natural Mineral Foundation offers maximum coverage and camouflaging capabilities with a subtly radiant finish. Pressed Mineral Foundation provides a soft-matte finish and is recommended for those with oily or combination skin. It's ideal for touching up shiny breakthrough. Liquid Mineral Foundation is best suited for normal to dry skin types. It contains marine extracts to keep skin hydrated. Mineral Radiance Moisture Tint is a sheer, lightweight alternative to liquid foundation. Mineral Radiance Crème Powder Foundation combines the great coverage and light-reflecting qualities of a liquid foundation with the shine-controlling benefits of a powder. Youngblood's loose foundation can also be "liquefied" by mixing with facial moisturizer, Mineral Primer, sunscreen or body lotion.
Does Youngblood use bismuth oxychloride in its formulas?
Yes, a few of our products contain bismuth oxychloride (a derivative of bismuth). This ingredient undergoes a thorough filtering process to ensure safety. We use a pharmaceutical grade of bismuth oxychloride for its performance: to provide smoothness, help makeup wear longer, give skin a nice glow and as a colorant. For best results, it's important always to use a clean brush and avoid over buffing, especially if skin is sensitive or is healing from a procedure. Our Flocked Sponge, Liquid Foundation Brush or Super Powder Brush are designed to offer the most gentle applications.
What about nanoparticles?
Youngblood does not use nanoparticles. Our pharmaceutical grade Titanium Dioxide is non-nano, and used for opacity, color and its UV properties. Our customers' wellbeing is the reason why we research to find safe and effective ingredients to use in our products. We are advocates for following a healthier lifestyle, including the use of our high-quality skin-caring mineral products as part of a beauty regimen.
Do Youngblood foundations have an SPF rating?
The number one ingredient in Youngblood's Natural Mineral Foundation is Titanium Dioxide, a natural sun protectant that physically "blocks" UVB (burning) and many UVA (aging) rays. Titanium Dioxide tends to be better tolerated by most skin types because chemical filters used in chemical sunscreens can be irritating for many people. Since protective levels depend on application and will vary (i.e., lighter coverage offers less protective benefits than a heavier application), Youngblood doesn't assign a Sun Protection Factor to its products. However, in laboratory measurements, the loose and liquid foundations are comparable to a minimum of SPF 15. Many mineral companies claiming SPF 15 or higher in their products use Zinc Oxide as an active ingredient. Most consumers are unaware that Zinc Oxide is a drying agent. Youngblood doesn't formulate with Zinc Oxide to keep products hydrating. The addition of other sun protectant ingredients can also feel heavy and clog pores. To maintain the luxurious, lightweight look and feel of our products and keep them non-clogging, we do not supplement our formulas with additional sun protectants.
Which foundation is best for a client with dry, red skin (rosacea)?
Natural Mineral Foundation disguises rosacea without drying out skin. Liquid Mineral Foundation is also a good option because of its hydrating properties. For added coverage, mix loose and liquid foundations together, or dust loose powder over liquid. Or try Mineral Radiance Crème Powder Foundation, which is specifically formulated with soothing peptides that help calm the redness and sensitivity rosacea can cause.
What is the difference between Mineral Rice Setting Powder and Hi-Definition Hydrating Mineral Perfecting Powder?
Rice powder provides a matte finish and is best suited for skin needing long-lasting shine control. The non-drying formula contains rice and corn starch to mattify and help minimize pores. The unique blend can be mixed with Natural Mineral Foundation to diminish coverage level, or keep a shade color-true. Hi-Def powder keeps makeup looking fresh by balancing skin. It locks in moisture while absorbing oil, and provides a cooling sensation upon contact with skin. The silky-smooth texture expertly blurs imperfections for an airbrushed, luminous finish. Each can be used before or after makeup.
How is Crushed Mineral Blush different from Pressed Mineral Blush? And Crushed Mineral Eyeshadow versus Pressed Individual Eyeshadow?
In addition to the shade selection varying between the formulas, the loose pigments deliver more color payoff and offer the versatility of being used wet or dry. Available in an exclusive sifter component, they are blendable to create custom shades or for use during advanced makeup techniques. The pressed formulas are conveniently packaged and work well for quick touch-ups.
Is Lipstick colour-stay?
While the formula is not color-stay, it does wear for hours. Currently, color-stay ingredients can be drying and have not met Youngblood's formulary requirements. However, select shades of our Lipstick are highly pigmented to provide a staining effect.
Does Youngblood test on animals?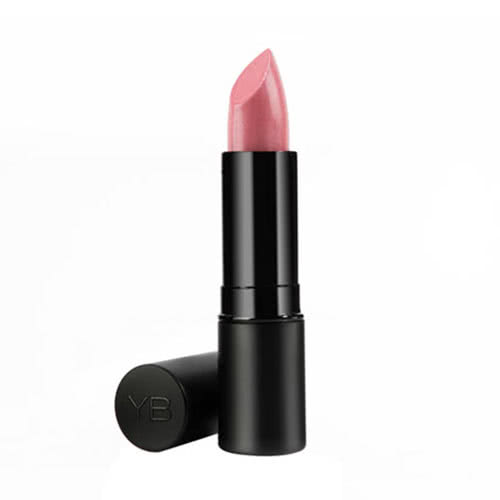 No. We do not test any of our products on animals. Many of our formulations are made with plant- and vegetable-derived ingredients including numerous vegan options (see next question). We are proudly included in PETA's (People for the Ethical Treatment of Animals) cruelty-free program. For example, the bristles for our natural brushes are acquired from hair clippings ? without harm to the animals. Additionally, Youngblood supports the environment. Most of the packaging is made from recyclable materials, and our cartons are produced on Forest Stewardship Council (FSC) certified stock with soy ink. The FSC also certifies the black wooden handles on our brushes.
Does Youngblood offer gluten-free and vegan products?
Gluten-free consumer goods do not contain ingredients derived from wheat, barely or rye. Youngblood is pleased to offer gluten-free products, with the exception of Lipstick and Mineral Lash Prime. We do not use any animal by-products in our formulas (with the exception of beeswax and carmine). For more information on key product characteristics, please visit the Product Preferences section.